5-in-1 Charging Cable Lightning, USB C, Micro USB
Regular price

Sale price

£7.95
Crafted from a blend of nylon weave and high-grade aluminium alloy, this charger cable epitomizes both form and function. The elegant design seamlessly marries with its impressive utility, making it the ideal choice for those seeking to streamline their charging solutions while steadfastly upholding uncompromised quality and performance.
Universal Charging Companion, After the 5-in-1 charging cable, there is no upgrade. The answer to all charging issues in one cable. Compatible with an array of devices through its Type-C, Micro USB, and Lightning connectors. Thanks to the included USB-A adapter, it effortlessly fits into almost any charging port.
One Lead Charges All: The ability to use one 1.2m cable to charge all of your devices is upon us, reducing clutter and simplifying your life. Additionally, the 5 in 1 Multi Charging Cable is perfect for travel, as it eliminates the need to carry multiple cables for different devices as one cable charges all!
Strong Nylon Braided Material: We take pride in the quality of material we use for our charging cables to ensure that they won't let you down, the 'rope like' material is stronger than the vast majority of cables of this size making it a much more reliable option.
Our Opinion

We love the convenience of this lead, having 3 different heads means that you wont ever have to worry if you have the right or wrong lead due to them all being in one place. We also love how it can adapt to either a USB-A port or USB-C making it really useful for on-the-go situations where only one style of port may be available
Share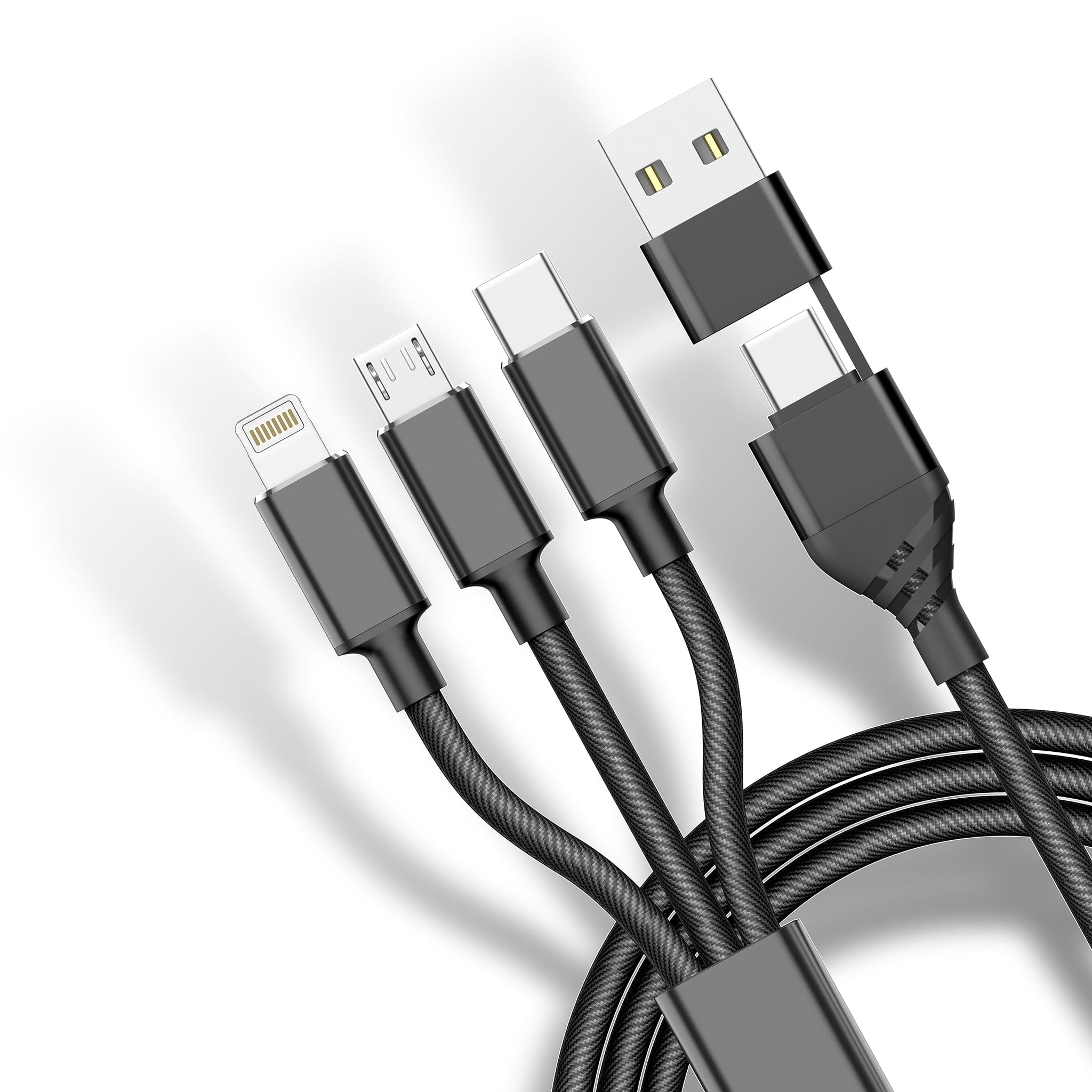 Guarantees
UK BASED

UK Distribution warehouse.

QUICK DELIVERY

Delivery next working day where possible but within three working days.
FAQs
WHAT IS THE RETURN POLICY?

You have the legal right to change your mind. If you change your mind about a product you must let us know no later than 14 days after the day we deliver your product.

To let us know that you want to change your mind, contact our Customer Services Team in one of the ways specified under "Returns Policy" or complete the model cancellation form below and email it to us on sales@uk-technology.com or post it to us at The Tannery, 91 Kirkstall Road, Leeds, LS3 1HS. You will have to return the product to us at your own cost (unless we offered free returns when you bought the products) within 14 days of your telling us that you have changed your mind.

See Returns and Cancellation Policy for further information
HOW CAN I CONTACT UK TECHNOLOGY LTD FOR ASSISTANCE?
WHAT PAYMENT METHODS DO YOU ACCEPT?

There are multiple ways to purchase all the essential products you need in your home. These include;

Visa, Mastercard, American Express, Discover, Diners Club, Maestro, PayPal, Union Pay, Shop Pay, Apple Pay and Google Pay
WHAT ARE THE SHIPPING OPTIONS?

Shipping on orders up to the value of £40 will have a shipping fee of £1.99, orders that exceed the value of £40 will receive free shipping, orders are shipped from our warehouse to your door. Your order will be delivered either by Royal Mail between 1-3 days from the time we process your order or by DPD the very next day!

Subject to the quantity and price of your order!