Smart Smoke Alarm
Regular price

Sale price

£19.95
The Smart Smoke Alarm is a game-changer in home safety. This advanced device seamlessly integrates with your Wi-Fi network, bringing a new level of intelligence to traditional smoke detection. Receive instant alerts directly to your phone, providing real-time notifications about potential hazards in your home. With this innovative smart technology, you can rest easy knowing that your safety is in sync with the digital age.
Instant, Real-Time App Alerts : Receive immediate notifications on your smartphone through the intuitive Smart Life/Tuya app whenever the alarm is triggered. Stay in control and take swift action, even when you're away from the area – a level of responsiveness unmatched by traditional smoke alarms.
Simple, Easy Set-Up : Setting up your Smart Smoke Alarm is a breeze with our straightforward instructions. Just log into the app, connect the alarm to your home Wi-Fi, and you're good to go. The built-in LED lights provide a clear visual of the status and network connectivity. Plus, even when not connected to Wi-Fi, rest assured that the alarm continues to function seamlessly.
Perfect For Any Environment : Boasting a sleek and timeless design, our Smart Smoke Alarm seamlessly blends into any environment. Unlike other smart smoke alarms, ours effortlessly complements any aesthetic, ensuring a harmonious integration wherever you choose to place it. Enjoy the perfect marriage of style and safety with a device that not only prioritizes protection but also enhances the visual appeal of your space.
Our Opinion

We think the app connectivity is what absolutely sells this product, being able to detect smoke when you are not even at home allows you to protect your property instantly by taking a suitable course of action.
Share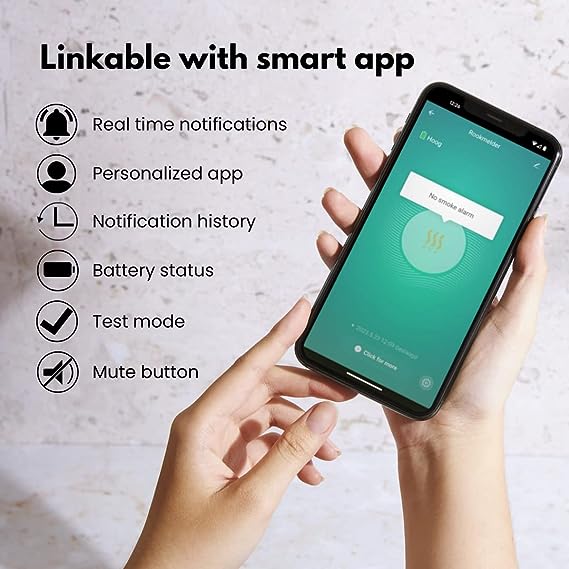 Guarantees
UK BASED

UK Distribution warehouse.

QUICK DELIVERY

Delivery next working day where possible but within three working days.
FAQs
WHAT IS THE RETURN POLICY?

You have the legal right to change your mind. If you change your mind about a product you must let us know no later than 14 days after the day we deliver your product.

To let us know that you want to change your mind, contact our Customer Services Team in one of the ways specified under "Returns Policy" or complete the model cancellation form below and email it to us on sales@uk-technology.com or post it to us at The Tannery, 91 Kirkstall Road, Leeds, LS3 1HS. You will have to return the product to us at your own cost (unless we offered free returns when you bought the products) within 14 days of your telling us that you have changed your mind.

See Returns and Cancellation Policy for further information
HOW CAN I CONTACT UK TECHNOLOGY LTD FOR ASSISTANCE?
WHAT PAYMENT METHODS DO YOU ACCEPT?

There are multiple ways to purchase all the essential products you need in your home. These include;

Visa, Mastercard, American Express, Discover, Diners Club, Maestro, PayPal, Union Pay, Shop Pay, Apple Pay and Google Pay
WHAT ARE THE SHIPPING OPTIONS?

Shipping on orders up to the value of £40 will have a shipping fee of £1.99, orders that exceed the value of £40 will receive free shipping, orders are shipped from our warehouse to your door. Your order will be delivered either by Royal Mail between 1-3 days from the time we process your order or by DPD the very next day!

Subject to the quantity and price of your order!